Pangkalan buun, I'm told the city name I can never pronounce is said, was my next waypoint where I had to prove my whereabouts. At each such waypoint, I had to search for, get myself to, and position myself with my equipment properly, so as to film and take photos to show exactly where I, still chaste, had got myself to. When I spotted another Swiss-BelHotel, I made that my landmark because it can easily be located, having a formal business premises address.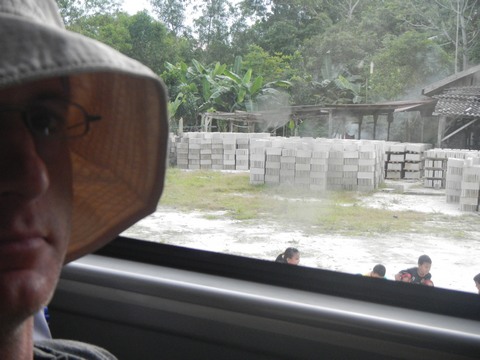 The bus coach journey here had been memorable: the seats reclined very far, so each row of passengers looked as if they'd had their legs amputated by the seat ahead when people decided to sleep towards midnight. The bus bounced along through ever-greening vegetation – mostly palm oil plantations, until, at 01:15am, the large engine rattled to a halt and everyone disembarked. Oh. Taxies, motorcycles and friends whisked away every passenger but me. It was far too late for me to contact my pre-arranged host, so with my backpack slung over my shoulder, and carrying my urination bucket, I slunk off into the humid night seeking a place to lie down.
By this time, I'd noticed I was walking much like a polio victim: to alleviate the pain of raw flesh rubbing on plastic and epoxy, I'd started to walk bow-legged. I didn't care. My head was bobbling from over-tiredness. I'd been unable to sleep at all on the bus because the low-grade pop music had been set to a loud volume and was never turned down. With eyes half-open during the very long trip, I'd seen deforestation all around, filthy rivers polluted by unknowing locals who discard litter without regard, and what appeared to be the endless sprawl of human encroachment into what was once virgin jungle. How sad to see.
Pages: 1 2