Tanjung: another big city in Borneo. I was dropped off at a large roundabout by three spritely chicken farmers who'd transported me there in their foul-smelling fowl-moving van. It was dusk. I knew Batulicin, the port city where I'd need to catch surface transport over to Sulawesi island, lay due east and I began walking in that direction.
It can be dangerous hitchhiking at night and I'm well aware of this. But I figured I've been treated so well in Kalimantan that surely I'd be safe doing so. After all the goodwill shown to me, nothing bad could possibly happen, I believed. And so I walked with purpose two or so kilometres away from the roundabout to begin thumbing it east.
I passed some things worth noting, including a man drawing a cluster of cages behind his motorbike, each housing indigenous birds for sale – but he was careful enough also to be carrying fowls for the less adventurous buyer. Having stopped to guzzle down a bottle of electrolyte replacement, I turned in the then-near dark. A stream of traffic, all with lights on, kept approaching, passing and disappearing over the knoll up ahead. But it wasn't the cars, trucks, buses, motorbikes and 4x4s which struck me with awe. It was the sunset. One of the richest-coloured sun downs I can recall seeing painted the sky to the west.
Brilliantly bright colours enveloped the cityscape and I stood, just admiring it for a while.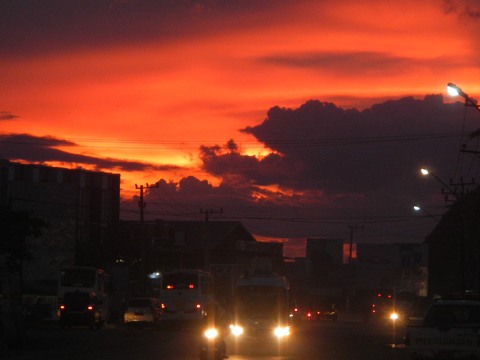 With my thumb out in the dark, I waited but nobody stopped. That's understandable – I'd agree drivers need to be cautious when picking up roadside strangers and their baggage at night. A motorcycle carrying two people stopped to ask if I was alright. We got chatting and the warm-hearted, open couple decided to try to help me get a bus. But the language barrier ensured they couldn't succeed. Instead, they scooted off and returned with a bag of food for me. How super of them!
Just then, a second couple approached in the yellow hues so typical of urban infrastructure lighting and offered to help me stop a vehicle. I was offered a place to sleep on a floor if I wasn't able to get a lift. A meal was on offer next, but my mind had been distracted. A friend asked where I was and how I was getting on. When I mentioned that I was hitchhiking from a gravel lay-by opposite the Aston Tanjung Hotel, the course of my night changed straight away.
My friend knew the local Aston's chef. The hotel wasn't busy and I was given a room – free, once again. All these hotel stays were completely outside my budget travel plans, and amazed me time and again. I entered the attentively-staffed air-conditioned lobby, a world apart from the sticky humid night, the never-ending traffic, and mosquito-populated air across the street. What a pleasant relief it was to step through those glass doors.
The best thing about the Aston Tanjung Hotel, for me, was that it had an easily accessible fitness centre. I spent a fair bit of time in there, especially after the healthy breakfast of fresh fruits and vegetables I'd been able to pick from their smorgasbord. Getting myself to Tanjung city by mistake had meant another hotel and more happiness for me, and that's great!