I walked off the jetty in yet another Bornean town the name of which escapes me. All I can remember is its pronunciation sounded similar to "Arnold Schwarzenegger". It was time to walk again, and this time I was walking off my anger.
As I'd been queueing to disembark from the speedboat, newspaper delivery men tossed their bundles of newspapers onto the concrete dock.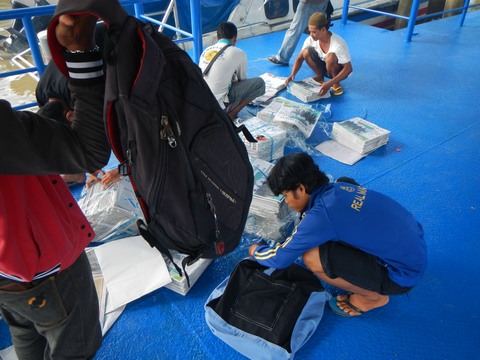 They slit the packaging and began to throw it – bundles of it – into the sluggish forest river. Delivery slips, cording and plastic wrap crumpled into the water and started to drift off in silence. This was how my fellow humans, uneducated at best, were treating the very same nature which energises me so much. I yelled at them, which was responded to with belly laughter. And so my yelling intensified. I know my view is right: people must not be allowed to degrade the natural environments they depend on for their own survival because our entire species needs that nature to support us.
In a huff, and deeply troubled by the attitude of these newspaper delivery workers, I stormed out onto the filthy road littered with plastic bottles, snack wrappers, cigarette boxes and more. I wished I'd finally encounter someone educated enough to change this utter sabotage of Borneo's helpless ecosystems. As if that wasn't enough to smash the timeless peace I'd felt as the speedboat had sped up the lush vegetated channels to the jetty, my next lift drove me wild.