A handful of km up the road, I was told to get out of the small car and walk into a satellite police station. Officers spoke their language in front of me and I was eyed up for a good minute. Next, the feeling of nervousness broke and disappeared: I realized that I was actually being treated as a priority!
Another policeman beckoned me to follow him to the roadside. I waited. He strolled into traffic, pointed at a small truck and asked if I liked it. I said yes; what else could I say? The officer held up his hand and motioned for the driver to pull over. Next thing, I was told to get in. The policeman smiled broadly, shook my hand and gave me a hearty farewell, saying the lift in the truck was free. My panic washed away instantly.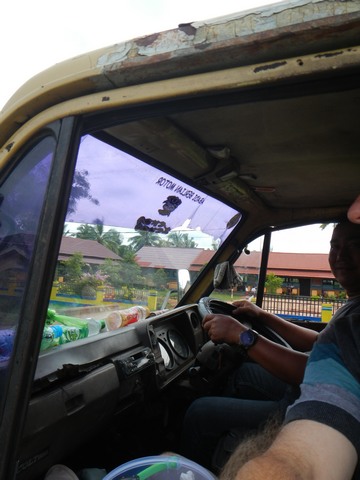 Now I realized what all the fuss had been about – these policemen had been working out how to help me on my journey.
I felt more than guilty for suspecting them of trying to corner me into a bribe and worse. I felt dreadful, in fact. To counter-balance my twinge of discomfort, the truck driver and I got on very well until he rounded a corner in what was, to me, another nameless town near the border with Malaysia. He nudged me out and again, I was soon standing in front of a policeman. He and the driver chatted for a good while, after which the driver departed and I was welcomed warmly into the station.
The hospitality of the Indonesian Police was only just beginning. They were great to me, and I felt guilty for not recognizing their good intentions long before I did. And there was wonderful news to come.
Pages: 1 2