Along my 100th world record journey, I met hundreds of pleasant people. The residents of Borneo – and especially Kalimantan – are mostly great. This excludes the few who schemed to rob, deceive and take advantage of me. Almost all my memories of people along this journey are positive.
Individuals by the score helped me, advised me and defended me when it was necessary. They went out of their way, and some paid for things on my behalf. The generosity never seemed to end.
And businesses followed suit. Many companies came forward with little offerings and contributions, but 4 stand out to me because they went a long, long way. Kamadjaja Logistics of Surabaya was the first to get involved in my world record attempt in a big way. I sailed from that city to Banjarmasin, compliments of their helpful sailing crew. Next to jump in was Swiss-BelHotel Banjarmasin. I was treated like royalty, they held a media conference for me and my every need was met during my time there.
Very shortly after, Honda Palangka Raya appeared on the scene. Again, I was looked after and staff dedicated time to me as if I were an honoured guest (which I wasn't). Thereafter it took quite some time before the next such company came along, but it happened. The Indonesia Ferry Batulicin office welcomed me and staff there was more than happy to have me on board one of their ferries. I was upgraded to a private cabin and served refreshments any time I wanted them. Great.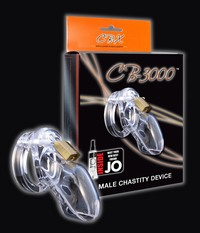 And then there's the big one. CB-X.com supplied me with the CB-3000 male chastity device. Their contribution was undoubtedly the kingpin in the entire project. Their interest, advice and proactive attitude towards what I was doing made me happy to associate with them. Thank you CB-X.com of Las Vegas!
Pages: 1 2