After an incredible stay at Swiss-BelHotel Banjarmasin with my spritely host Arief Faisal, I headed west, hoping to reach Pontianak in 2 days. Alas, road networks here don't allow that. So I had to made my way north to a city I can never remember the name of – something like Palankarayala – from where I'll turn south-west and then west.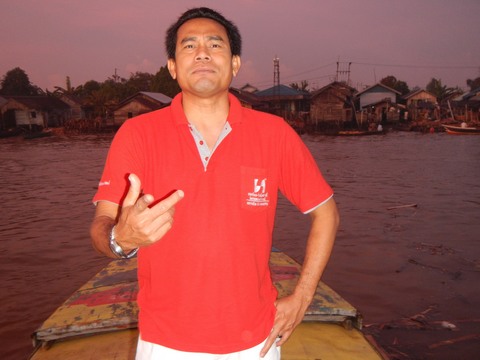 A contact of Arief's organized me a free lift in a small people mover which sped along through what seemed to be endless deforestation. I don't know the local ecology, so I can't be sure, but the landscape to me looks biologically weak. Nonetheless, I was aware there's an orang-utan conservation reserve along this road somewhere and I hope to visit it in the near future. The forest here reminds me of Cameroon's jungle – teeming with life. There aren't many wild birds to be seen in Indonesia as one travels around, I've noted (I'm a keen twitcher), but Kalimanatan – Borneo – appears to have more flying across the road than in other parts of the country.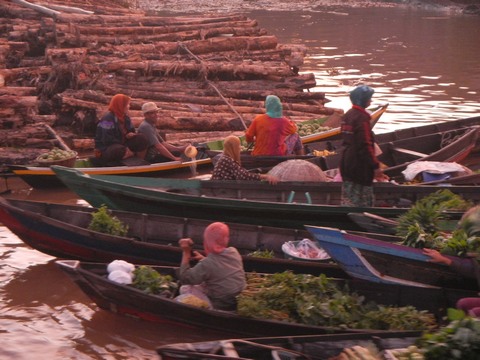 My mind keeps drifting back to Arief. His hospitality was a god-send. I won't forget that man in a hurry. He even arranged a chartered boat to put-put out along the big river to the floating market. What a sight. If you stay in Swiss-BelHotel Banjarmasin, I highly recommend you take the tour; it was well worth it: coal barges, soaking jungle logs, bartering on the water and more. With Arief's commentary, I learned more than I'd do by reading a guidebook for 20 minutes.
In this impressively clean and well-managed city of Palankarayala, I hit rock bottom. As the people mover rounded another corner on a broad road, I felt the flesh inside the device pressing hard into something, rubbing. With no concern for other passengers, I instinctively grabbed the device under my pants and tried to alleviate the pain. I could feel bubbles of sensitive flesh expanding through the ventilation holes in the device. They felt like grapes to my fingers. These bubbles were the size of peas, and I had 4 of them popping through the device holes.
Pages: 1 2