Having completed some world record attempt-related evidence processing, I began walking on the road out of Samarinda towards Balikpapan. As usual here in Borneo, friendly locals waved at me and many came running to ask if they could have their photo taken with me. I always obliged. I hadn't been hitchhiking for long and clouds overhead released their water.
Mechanics called me over and under their twisted, cracked corrugated iron roof, we swapped a little banter despite a severe language barrier. When the rain ceased, I resumed hitchhiking and was quickly responded to. A middle-aged man who could speak next to no English offered me cash, which I refused. Then he asked me to have a meal at his house, which I agreed to while saying I couldn't stay too long.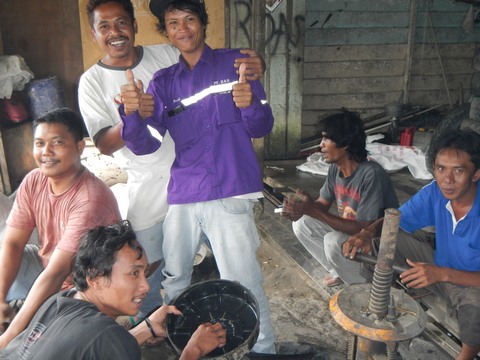 Food and non-alcoholic drinks were especially served for me amidst consistent family chatter. The man of the house was a Christian pastor in a local church which engaged volunteers from New Zealand. And would you believe most of my Christian friends in New Zealand are associated with the same church! A lift was arranged for me, even though I said I didn't want the family to go out of their way for me. Before my lift left, though, I was asked if the family could pray for me. I agreed.
I admitted that I'm quick to anger and the pastor decided to make an attempt at extracting the supposed demons from my body. Well, what can I say? On the tiled kitchen floor, three men and three women – all Christians – turned into prayer machines surrounding me. One played a guitar brashly while singing, others sang energetically and before long, I had men's hands firmly gripping my back, head and shoulders. The hands began to tremble as the guitar strumming got louder and faster, and the prayers' enthusiasm rose in intensity to match.
From what had been a peaceful meal over pleasant chatter, the atmosphere had turned into one of serous business: these half-dozen Christians were determined to see all demons vacate my life, it seemed to me. My torso was being shaken only a little, but with force. My eyes were open and I tried to sing along, although I'd not heard any of these songs before. The activity struck a crescendo when one of the men shouted out incomprehensible prayer affirmations, almost too loudly to be natural, of the type Pentecostal Christians are known for. By this stage, to be honest, I'd felt no earth-shattering emotion, no demon sucking itself out of my heart, no mind-altering state overtaking me.
The ring of folks hastily ended their brief but intensive Christian crusade on me and I humbly thanked them for their belief that they were liberating me from the devil. Whether or not this stuff is real, whether it works, whether it affects human beings and so much more remains a mystery to me. I just don't have answers. But the Christians think they do, and that day was the day I permitted a Christian pastor to exercise his Godly powers on me because I know his intentions were good, honest and genuine.
Why not find out for yourself what new adventures and excitement you can experience when entrapped in your own CB-X Male Chastity device – with 15% off all orders over £40 placed before 31st December 2014 with free UK delivery.