I met my next accommodation host at the Port of Balikpapan. She arrived at the worst of all times: I was bored trying to find a place to sit where I'd not have to breath clouds of exhaled cigarette smoke so I decided to counteract the health risk. I found a table against a wall and began exercising instead of simply sitting with the hundreds of smokers who were in every room and every open space across the entire harbour premises.
As I stretched my left leg as a warm-up exercise, a lady walked right up to me. She could hardly have missed me, could she have! Jumping aboard her husband's employer's speedboat to transport us to an awaiting bus was the first occasion on which I've been asked to wear a life jacket in Indonesian waters. In the dark, having used water and road to get us there, my host and I entered a large coal mining staff village which I was told is so locally powerful that the police don't dare interfere. I don't know, but to build such a village surely means the coal being mined is turning over a handsome profit to justify the investment. I couldn't help thinking of how coal usage is a leading cause of environmental damage, and yet the goal seems to be to extract more of it. Has anyone actually thought this over?
My hosts and their cute young girls were terrifically hospitable, which I'd become so accustomed to here in Borneo. When the lady of the house offered to take me to a little cave containing human skulls, I burst out with, "I'm interested" virtually before she'd finished speaking.
In a low limestone cliff (or at least I think it was limestone), a small grotto could be seen from across the suspension bridge some distance out of the mining village. I left my backpack in the locked car because my hosts assured me nobody steals locally – witchcraft as a tool of vindication is apparently widespread in Borneo and people fear it deeply. The family and I ascended a steep concrete and wooden staircase. I wasn't sure what to make of what I saw in the shallow cave when I rounded the final section of stairs.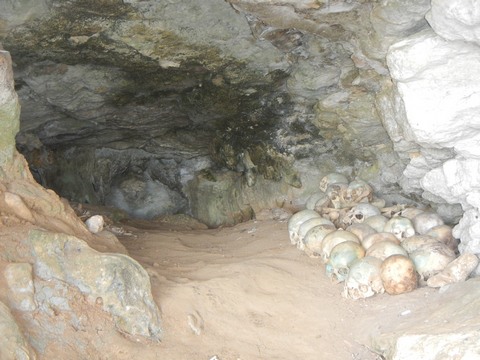 In the dust lay two clusters of human skulls, dry and stained. There's something eerie about encountering dead humans, I've found, perhaps because you know you ought to be able to "connect" but you can't. I sat on my haunches quietly and stared. The assemblage of eye sockets stared back with that eternal frozen gaze. Many thoughts passed through my mind, but suffice to say that crouching amongst several dozen dead people's head bones stops one's own thinking for a moment.
I spun on the balls of my feet and rose again. Hitting my head on the roof of the small cave was enough to draw me out of the slight trance-like state I'd sank into while staring down at the skulls. My hosts then led me away to other caves full of stalagmites and stalactites but the first cave impressed me the most by far.
We parted ways at the base of the cliff in which the third cave I visited was. Because I was trusting word of mouth as I found my way down a network of very long narrow tarred roads, I got lost. Instead of ending up in the port city of Batulicin for the night, I found myself some way off course in Tanjung, where more amazing help appeared unasked for.
Why not find out for yourself what new adventures and excitement you can experience when entrapped in your own CB-X Male Chastity device – with 15% off all orders over £40 placed before 31st December 2014 with free UK delivery.