Having taken the final waypoint measurement for my evidence-collection process, I trotted up the steps of a hotel arrivals area in east Banjarmasin to where I had pre-arranged independent witnesses waiting for me. I'm sure you don't want to know exactly how the device was removed, but I can tell you it involved long-nosed pliers, a Leatherman multi-tool, and a 60-cm long pair of bolt cutters! I'd tried to source a smaller pair but nobody seemed to have one.
On video, and with plenty of photos being taken, the ring was sliced through twice so the flesh could be pulled loose. A provision in the rules allowed me to do this, which was the option I chose given how exhausted I was. I was nervous about using the bolt-cutters because they're such a powerful tool, and I know there's a lot of blood where I was crunching the bolt-cutters' jaws onto the thick plastic ring. The fishing line was cut and pulled free. And the signatures in the epoxy were revealed as required by the rules.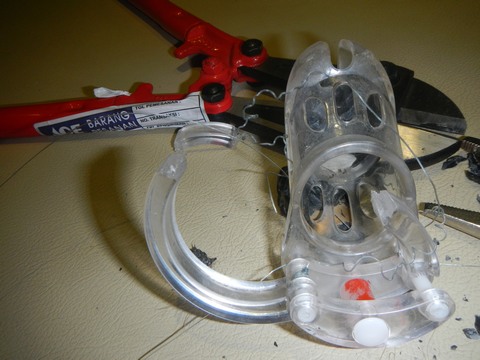 Yet, before I could think, I was free, free, free. It was an incredible feeling of relief. A plume of stink filled the room and I could see what resembled a petri dish of laboratory-engineered slime halfway between my face and my feet. Thank goodness I'd thought of buying almost 100% pure alcohol hand sanitizer, which I emptied onto my nether regions next. The sting was immense and I screamed. But I knew that once clean, I'd be safe.
An hour later I was. The sensation of freedom from chastity was wonderful, but it also meant I faced the mammoth job of winding down my 100th world record attempt. Since sleeping for much of the past 36 hours, that's basically what I've been doing: shutting down this event.
There have been some pleasant interruptions though, in the way of media. I was shuffled into a major newspaper / radio / TV group of companies for several interviews. I've since appeared as a front-page print article, a TV piece and on more radio around this part of Indonesia. As I wind down this event, more media keeps coming. That, my friends, was the prime goal from the start. So am I satisfied? Absolutely I am.
So if you fancy emulating or even trying to beat this experience, you can start by getting your own CB-X Male Chastity device.
If you have enjoyed reading about my epic journey, then why not find out more about exploring Borneo using one of the great Lonely Planet Guides.