My trip from Borneo to Sulawesi (Batulicin to Barru) was made extra pleasant by the staff on board the Indonesia Ferry vessel. The majority of passengers chain-smoked non-stop, and – since I was sitting among them – I began to cough up large lumps of sticky yellow phlegm. I asked for a sleeping place away from the cigarette smoke-filled economy class area and my wish was granted within minutes; I was upgraded. Isn't that great service! What's more, I didn't cough again.
When I docked at Barru, I quickly did what I needed to do for the world record attempt evidence and had only been hitchhiking for 3 or so minutes when I was offered 2 lifts. Friendly people in these parts, I remember thinking. And the family whose car I got into took me all the way into Makassar where I learned it's not such a friendly place after all.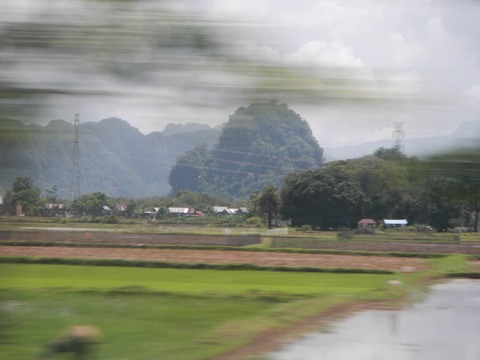 But along the way we passed some of the most stunning scenery I've seen in Indonesia. Urban areas along the roadside were surrounded by rice paddies as horizontal as a spirit level, and these were interrupted everywhere I looked by domes. The naturally occurring heavily forested carbuncle-like protrusions soared into the sky, breaking the monotonous look of the rice fields with dramatic natural landscape architecture. I wasn't surprised to learn that this region is famed among tourists because of its photogenic landscapes.
Then I set foot in Makassar. Massive burglar bars covered the windows of the room my host placed me in. A sturdy wheeled steel gate shut the premises off from the alleyway directly in front. I was given 2 keys: one for the front door and one for my room, and even told to place my shoes next to me when I sleep, in case. I did as I was told, but wondered why.
By nightfall, I'd been warned by 6 people that Makassar is a dangerous city. I was told of marauding criminal gangs, lone knife-wielders, pick-pockets by the hundred and even thugs who use small poisoned arrows using an amphibian secretion to drop their quarry. Apparently, I'm told, victims who don't get to a doctor soon after then die. Worse, I was told the room I was staying in is in the most criminal-infested part of the city. Nice.
Was I nervous? Not really, but I was wary. I secured my backpack to the headboard of my bed using my length of wire rope – the type usually used to tie up motorcycles. Then I left to go about my tasks, including uploading this blog post.
And that's just another update from a travelling chaste white man whose route follows the ankh, the ancient Egyptian sex symbol, across Indonesia.
Why not find out for yourself what new adventures and excitement you can experience when entrapped in your own CB-X Male Chastity device – with 15% off all orders over £40 placed before 31st December 2014 with free UK delivery.