The driver took me right to the door of my pre-arranged host. I was the last passenger to be dropped off. Hendriek welcomed us both with a meal of hot offal and told me I was going out on the town. Really? Much as that sounded good, all I wanted to do was sleep and sleep.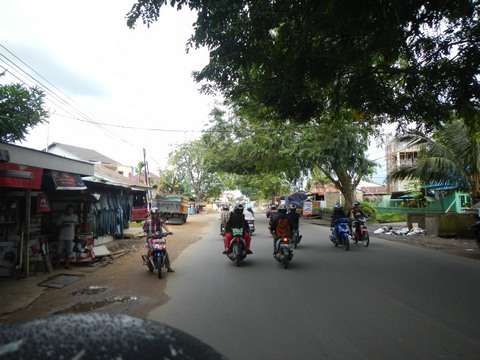 Hendriek, a man who knew how to ride a motorbike aggressively through wide open streets and get to his destination without delay, sped down the alley with me on the back, holding a bottle of whiskey. Having thumped the motorcycle engine hard, we arrived at a house where seafood snacks were laid out for me and the residents wanted to hear all about my 100th world record attempt. I spoke, but could feel my eyelids drooping. After a beer, I could hold on no longer and slumped into the couch.
I was so exhausted, even had I not had my manhood entrapped within this CB-X Male Chastity device, I am in no mind to be anything but chaste at the moment – certainly I was struggling to stand up to the occasion.
Try as they may, nobody could wake me. I managed to move myself from there onto the floor and continued to sleep, at which point the others realized there would be no chance of my joining them for drinks. They gave up asking.
At 2am I awoke and Hendriek and I sped back to his house along the most well-managed roads I've seen in all of Indonesia – I wanted to vomit from exhaustion and he had half a bottle of whiskey in his stomach. I was wearing no helmet, but my only concern was not falling off the motorcycle if I fell asleep suddenly.
For the first time since I departed Denpasar, Bali, to begin this 100th world record attempt, I got a full night's sleep. It may have been in sections, but I did get 11 hours. And did I need it all.