Crossing into Malaysia was like hopping from Zambia to Sweden – the difference in development was striking and immediately obvious. From a hitchhiker's point of view, that's bad news. It's really bad news.
In my 24 years of hitchhiking, I've found that the more developed a nation is, the more its population frown upon hitchhiking and other weird forms of transport. There are buses, trains, aircraft and taxis, so why would anyone decide to hitchhike? This attitude was what I confronted right across Malaysia, from east of Kuching, where I entered, to the border with Brunei Darussalam up north. Nevertheless, in this orderly, predictable, well-managed nation, I did manage to have a bit of fun during my sprint to the Brunei border.
Sweating like a big slave on a high-speed treadmill, I walked away from Aruk border, through the tall grass and soaring jungle trees left standing by locals who were clear-felling much of the near-road vegetation. The road was immaculate. Within minutes a friendly family stopped and I was told to "gheeet eeenni!"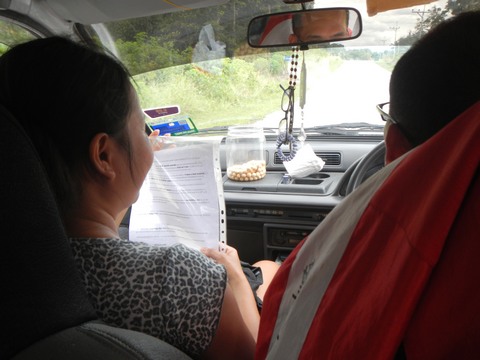 There's not much to report of my journey into the city of Kuching, except that the road and infrastructure reminded me of parts of the "old" South Africa and southern France. Everything worked. Roads were clearly sign posted. Traffic queued. Road signs were obeyed. Driveways were maintained. Rubbish bins were in use…
So why would that be of interest to me? I chose to spark up a fun conversation with the driver and family regarding my CB-X Male Chastity device. They were highly amused to say the least. At least they then understood when I had to scoop up the flesh and fiddle with it to release the fishing line now and then while we sped along into Kuching.