The next step of my 100th world record attempt journey looked straightforward enough – it would bring me back into Indonesia.
The vessel docked in Tarakan to awaiting porters who jumped onboard to earn their next wage by lugging items onto the concrete. Nearby cargo ships were being loaded by overhead cranes as workers scurried this way and that. It was a place where not a moment of non-action slipped by.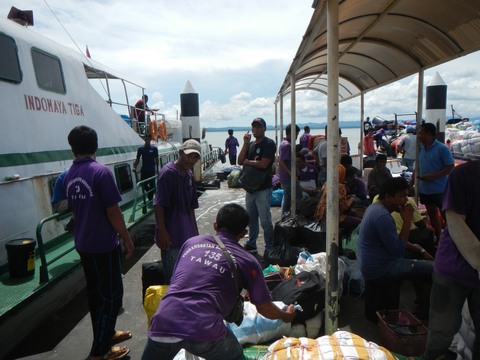 Beyond the hustle, and to the other end of a long causeway, into the Indonesian Immigration hall I strode, urination bucket in hand and backpack hugging my shoulder blades. The boat was emptying fast and Malaysians, Indonesians and others were queueing hurriedly to get into the country. The immigration officer bleated the usual toneless "passport" at me and held out his palm. Clasping it right-side-up and staring at the cover, he asked, "What nationality?"
I cheekily told him to read the name of the nation printed on the booklet and he then muttered, "oh, Niw Zhi-lend". He asked what the bucket was for, but instead of telling the truth – which would have got me into a worrisome situation, I was sure – I said it was my camera case. He nodded and flicked through my all-important book. A minute or so later, after producing a deafeningly loud bang of a stamp, I was given the nod to proceed. Another minute or so later, I was back in Indonesia: in Kalimantan, my favourite region of the country.
Somehow Kalimantan pulls at my heart strings. It's a place I've yet to discover, even though I've almost completely circumnavigated it. Things are big here: industry is, the jungle is, cities are, distances are, money-making is, and the island's problems are. I may be a small fish in a big pond, but my mind sees big and I think even bigger when it comes to world record-breaking. Kalimantan, what will be our future, I wonder?
Pages: 1 2