The final leg of my epic 100th world record attempt trip through Borneo ended well. My hitchhiking back north from Makassar to Barru was easy. Half the journey I undertook on the back of a motorbike; the other half with a friendly truck driver. I caught a glimpse of a large crocodile swimming across a grass-ringed body of water next to a bridge in a residential area of Makassar, and a car overtaking the truck smashed up the back of a red sedan, parked in the fast lane, as we trundled past it.
I spent my last night in Sulawesi at the closest police post to the ferry departure point. I tossed throughout much of the night on a wooden slatted bench on the porch next to the smelly toilet, harassed by mosquitoes and kept awake by mangoes occasionally dropping onto the corrugated iron roof like plummeting missiles. Trucks stormed past intermittently during the dark hours so violently, my body seemed to be vibrating. The police – understandably – watched TV through the night. They had the volume up loudly and had the TV tuned into a programme which involved subjects left in dark haunted buildings where they were videoed screaming and crying. The lights were on. The officers were smoking. And they chatted constantly. I hardly slept.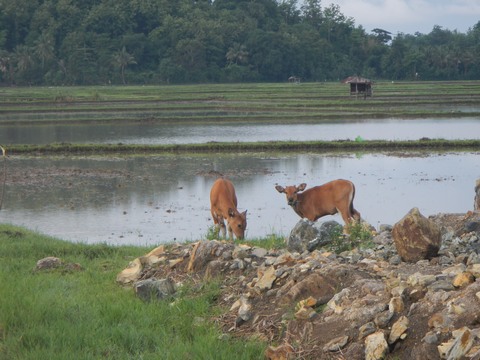 At 5am, I began walking to the ferry. The captain gave me a lift as I passed grazing buffalo calves and whisked me on board, past security, so I didn't need to get a ticket. He was a very pleasant man. I'd under-catered for my food needs. Struck by hunger pangs late in the 24-hour sea crossing, when I spotted a half-bottle of honey under the chief engineer's desk in the cabin I'd spent most of my time sleeping in, I naughtily took a nice long sip. My throat constricted and the honey shot out of my mouth. I then saw the bottles around where the honey had been were labelled detergents, soaps and cleaning agents. I spat and spat but my throat burned. I choked and coughed for 2 hours, and then battled with a throat on fire for over 12. What on earth had I nearly swallowed? It wasn't honey, I was sure.
Pages: 1 2