In Kota Kinabalu, a huge city (well, it's massive if you try to walk across it as I did) I faced the same extreme frustration I'd encountered in Bandar Seri Begawan. The concept of a white man hitchhiking is as foreign to people in both those cities as an alien spacecraft landing would be to anyone. Locals were utterly dumbstruck by my choice of travel. It took me 3 hours of stopping pedestrians and asking to find the road out of Kota Kinabalu heading for Tawau. All of 3 hours!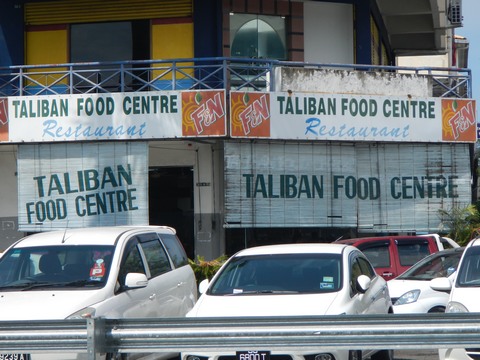 But in that time, whilst I was thinking about the fairly simple fayre I had been eating on my 100th world record attempt journey, and how Western Society tends to have a wide range of international restaurants, I was humoured by the eating house name "Taliban Food Centre". Not quite what I would associate with the Taliban!
My question was simple: please tell me where the road is to Tawau. The answers were simple-minded: the bus leaves at such-and-such a time, you're going the wrong way because the taxis are there, and it's too far to go there. I got mildly angry and it began to show (in total, I've hitchhiked almost the same distance as the circumference of the earth, so being told by city slickers it's too far was like a red rag to a bull).
Finally a well-spoken local approached me in English, "I understand what you're trying to do; come and I will show you which direction to walk in". I was so grateful I could have hugged the guy! But that may have been a dangerous move in Kota Kinabalu since I'd noticed rather a lot of petite men giving me lustful glances and cute smiles in that place and I certainly didn't want to send the wrong message. Instead, I just walked off speedily. When this exact hitchhiking-related confusion had developed back in Brunei, my "rescuer" had been Jimmy, the general manager of the smart Badi'ah Hotel, Tutong, Bandar Seri Begawan. Thanks to you too Jimmy!
Pages: 1 2